11.12.2018
HÀ NỘI — Việt Nam's private sector continued to show strong growth with the compounded annual growth rate (CAGR) among private firms rising significantly, reaching 21.8 per cent in the 2014-17 period.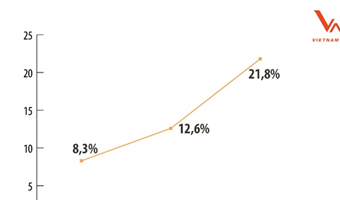 This information was included in the recently released VNR500 Ranking for 2018, which ranked the top 500 largest businesses in the country and is compiled by Việt Nam Report in co-operation with VietNamNet newspaper. This is the 12th consecutive year that the VNR500 has been announced to honour the achievements of Việt Nam's most successful enterprises. Việt Nam Report also announced the top 500 largest private enterprises.
The five sectors that contributed the most revenue to the 500 largest companies were finance (15.1 per cent); food, beverages and cigarettes (14.3 per cent); construction, building materials and real estate (13.9 per cent); steel (11.7 per cent) and telecommunications and information technology (9.2 per cent). These five sectors accounted for 64.2 per cent of total revenue and 75.5 per cent of the net profit of the 500 enterprises on the list.
A recent statistic from the General Statistics Office also showed a significant contribution by the private sector. The figures calculated at the end of 2016 showed that private sector enterprises generated VNĐ9,760 trillion (US$420.3 billion) in revenue, accounting for 56 per cent of the economy's total revenue in 2016, while State-owned enterprises (SOEs) generated only VNĐ2,880 trillion, accounting for 16 per cent of the total. In terms of profit, the private sector generated more than VNĐ188 trillion, accounting for 26.4 per cent of the total profit of all enterprises, while SOEs generated more than VNĐ197 trillion, accounting for 27.7 per cent. The remaining 45.9 per cent of profit was generated by other economic sectors.
The ranking also saw a positive change in the economic structure. Over the past few years, the proportion of revenue from large enterprises in the service and industrial sectors has increased significantly.
There were also positive changes within the sectors. For the industrial sector, product structures are changing to better meet market needs. The processing industry increased its revenue proportion while the mining industry decreased. In 2018, the processing industry accounted for 43.7 per cent of the industrial sector's revenue in the VNR500 ranking while the mining industry accounted for 12 per cent.
A ceremony for the rankings is scheduled for January 16, 2019 at the Rex Hotel in HCM City.
Top 10 largest enterprises in Việt Nam by revenue in 2018:
Samsung Electronics Việt Nam Co Ltd
Việt Nam Electricity (EVN)
Việt Nam National Oil and Gas Group (PetroVietnam)
Viettel Group
Việt Nam National Petroleum Group (Petrolimex)
Vingroup JSC
Việt Nam Bank for Agriculture and Rural Development (Agribank)
Joint Stock Bank for Investment and Development of Việt Nam (BIDV)
Honda Việt Nam Company
Vietnam Airlines Corporation
Top 10 largest private enterprises in Việt Nam by revenue in 2018:
Vingroup JSC
Mobile World Investment Corporation
Việt Nam Dairy Product JSC
DOJI Gold and Gems Group
Trường Hải Auto Corporation
Hòa Phát Group JSC
FPT Corporation
Vietjet Aviation JSC
Việt Nam Prosperity Joint Stock Commercial Bank
Masan Group Corp
Source: Vietnam News / GSO
Photo: VAM