29.11.2018
Vietnam's revised Securities Law promises to ease restrictions on foreign ownership, although details of the draft bill remain challenged by market participants.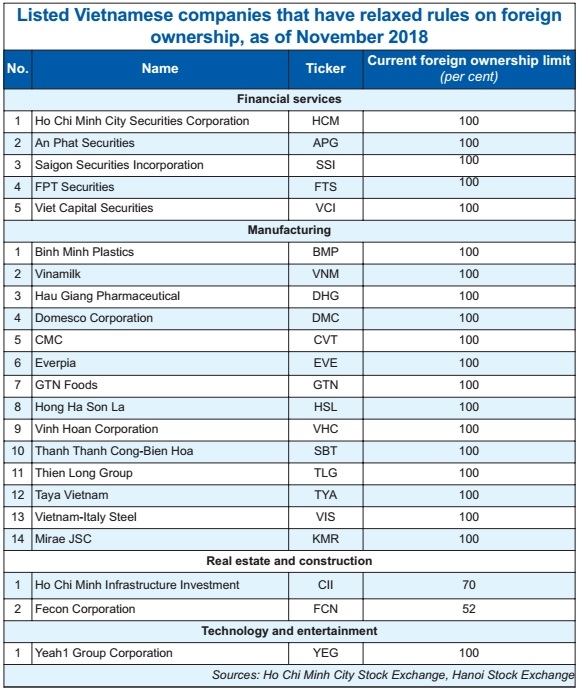 The new draft Securities Law contains some much needed tweaks to the foreign ownership limit
Throughout November, the Ministry of Finance and the State Securities Commission (SSC) have held conferences in Hanoi and Ho Chi Minh City to collect public opinion on the draft amendments to the Securities Law. The revised bill, to be presented to the National Assembly in 2019, includes comprehensive changes on securities trading, corporate governance, share issuance, and most notably, foreign ownership limits (FOLs).
According to the draft version, as a general rule, foreign investors are allowed to own 100 per cent of the shares at a Vietnamese company that operates in a non-critical business sector. This applies to listed firms, equitised state-owned enterprises, and private non-listed businesses. Shareholders at each company will decide for themselves the amount of foreign-owned shares that they are comfortable with.
This is different from the current Securities Law, which automatically sets the FOL at listed companies in Vietnam at 49 per cent. Some conditional sectors, such as banking or aviation, have a stricter limit at only 30 per cent.
The revised law also incorporates a wider scope of companies than Decree No.60/2015/ND-CP, the milestone document in 2015 that paved the way for listed firms to scrap their FOL.
The SSC hopes that this change will help Vietnam edge closer to the emerging market status by Morgan Stanley Capital International (MSCI) and FTSE Russell. Both market rating firms still regard the Vietnamese stock market as discriminatory towards foreign investors, although the market size and liquidity have met the criteria of an emerging market.
Last month, FTSE Russell put Vietnam on its watch list for a possible upgrade, and stated that it would like to see further easing on the FOL.
Experts believed that with the relaxed rules, Vietnam would be likely to attract at least $5 billion of new capital from abroad and receive the upgrade that it has been waiting for so long. With fewer restrictions on foreign ownership, Vietnamese firms would become more attractive to major investment funds who are willing to pour more than $10 million into a business that they like. Foreign investors, thanks to bigger holdings, can also have a more influential voice at Vietnamese companies and help with corporate governance and information transparency.
"This change will be a catalyst for Vietnam, helping the country accelerate the process of upgrade to the emerging market status," said Trinh Hoai Giang, deputy CEO of Ho Chi Minh City Securities Corporation (HSC). Similarly, Mai Le, analyst at PYN Asia Research, noted that out of all the changes in the Securities Law, the market is most anxiously waiting the FOL rule to take effect.
Roadblocks to success
Although the relaxed rules are welcomed by the market, investors and other market participants voiced concerns about the implementation.
First, when the FOL at Vietnamese firms surpasses 51 per cent, the company will be regarded as a foreign entity. This is not a great scenario for the firms, because they can be subject to stricter rules on investing, land ownership, and taxes.
The PAN Group, the company that reversed its decision on foreign ownership last month, is one notable example. In 2016, PAN was among the first listed businesses in Vietnam to abolish the 49 per cent cap on foreign ownership. However, the agricultural firm last month re-instated this limit as it was afraid that it would be treated as a foreign business if investors owned more than 51 per cent of its shares. PAN intends to carry out a slew of mergers and acquisitions (M&As) in agriculture in the next few years, and staying as a Vietnamese entity will be much easier for these M&A conquests.
"On the upside, the draft new Securities Law was released, but this was counter-balanced when The PAN Group announced its intention to reduce its foreign ownership room as a result of the wording of said legislation […]. This is not quite the path-clearing to MSCI Emerging Market Index that we were expecting," PXP Asset Management complained in its latest report.
Other large-cap businesses, such as Mobile World Corporation, REE Corporation or Phu Nhuan Jewelry, are also reluctant to scrap their FOL as they operate in retail and real estate. Opening a new store or buying new land requires more paperwork for a foreign entity, thus these firms still maintain their 49 per cent cap to remain Vietnamese businesses.
At a recent SSC conference, Vietnam Fund Management, Dragon Capital, and HSC suggested that the new Securities Law should introduce non-voting shares if the SSC wants to encourage foreign capital into firms while still retaining the list of conditional sectors. Saigon Securities Incorporation also recommended shortening the number of critical business sectors.
There is also confusion as to the wording of the draft. Specifically, the bill states that shareholders of each company can decide the FOL, which means that foreign investors can only buy a majority stake at a company if the annual general shareholders' meeting approves. If major shareholders or the board feel threatened by outsiders' participation in the decision-making process, they may retain the limit to keep foreigners out.
This goes against an earlier clause of the draft, which ­outlines that foreign investors are entitled to own 100 per cent of any Vietnamese ­organisation, as long as the business does not operate in a conditional sector. Nguyen Quang Thuan, CEO of ­Stoxplus Corporation, said that as a result, the impact of the new law can be of a quite ­limited scope.
Source: Vietnam.net
Photo: VAM