22.12.2018
The Global Green Grown Institute (GGGI) and GIZ released a landmark report on December 10 that shows how Vietnam's sugar industry could generate enough clean biomass electricity to power 630,000 households per year, create thousands of jobs, and reduce carbon emissions.
Vietnam's vast sugar industry can utilize its bagasse waste from crushed sugarcane together with other sources of biomass like wood chips, rice straw, and rice husks to generate much-needed electricity in a carbon neutral manner. There are currently 41 sugar mills in Vietnam generating over $1 billion in revenue and contributing at least 0.53 per cent of the country's GDP. Total energy production could reach 4,300 GWh per year, which is enough to power 630,000 households.
To reach full potential the report calls on the government to:
Apply and increase the feed-in-tariff for all biomass energy technologies to 9.35 US cents per kWh from the current 5.4 US cents.
Revise the current power purchase agreement to address the issues of dispute resolution, extension rights, grid connections, and termination rights, to increase attractiveness among investors.
Promote the use of multiple fuel sources together with bagasse to extend the run-time of the energy plants.
Promote the establishment of separate power companies via setting up a special purpose vehicle to increase attractiveness of financing from domestic and international sources.
If fully realized, the biomass sector could be a game-changer for Vietnam's energy sector.
"Vietnam has huge untapped potential for biomass energy, and with some simple changes in policy we can see over 730 MW of clean energy resulting in significant emissions reductions," said Mr. Adam Ward, Country Representative of GGGI Vietnam.
The report shows that the sugar industry could generate an additional 2,180 green jobs and reduce approximately 2.7 million tons of carbon emissions a year, equivalent to 7 per cent of Ho Chi Minh City's greenhouse gas emissions in 2013. This would help Vietnam decrease its reliance on coal power to meet the Paris Agreement commitments and implement the UN's Sustainable Development Goals as well as increase farmer incomes.
"The report is based on a number of pre-feasibility studies on biomass energy projects at local sugar mills that GGGI and GIZ have conducted since last year," said Mr. Ingmar Stelter, Director of the Energy Support Program at GIZ. "Based on the results, a number of key issues need to be addressed to promote both domestic and international investment in biomass energy and enhance the bankability of biomass energy projects."
The report also highlights the need to improve access to financing for biomass energy projects, which would require capacity building both in the sugar industry and among financial institutions.
The Vietnam Sugarcane and Sugar Association (VSSA) welcomed the study and urged the government to increase the feed-in tariff for biomass energy to 9.35 US cents per kWh.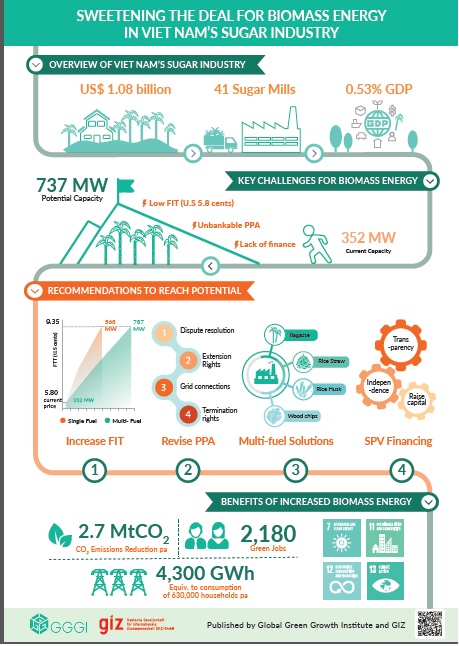 "The report shows the benefits of exploiting the great potential of the sugar industry, which can contribute energy during the low season, or dry season, of hydropower, ensuring national energy security and creating revenue and competition in the sugar industry," said VSSA Chairman Dr. Pham Quoc Doanh. "It will also bring jobs and reduce carbon emissions."
The report's conclusions are based on pre-feasibility studies conducted by GGGI and GIZ at five sugar mills around the country. The report scales up the detailed analysis to the national level to provide recommendations for the government on how to unleash the potential of biomass power in the sugar industry.
Source: Vietnam Economic Times / Vietnam.net
Photo: VAM