23.07.2018
VietNamNet Bridge – The most powerful investment fund in the country continues to pour money into Vietnam's leading companies despite capital withdrawal from emerging and frontier markets. 
Foreign investors are still grabbing every opportunity to buy shares in Vietnam.
The group of investment funds managed by Dragon Capital has announced the purchase of 813,110 GEX shares (Vietnam Electrical Equipment JSC) to raise the total number of shares it holds to 13.6 million, becoming a big shareholder with 5.05 percent of shares.
Grinling International Limited bought 154,100 shares and Hanoi Investment Holdings Limited 659,000 shares.
Six other member funds of Dragon Capital are also holding GEX shares, including Norges Bank 4.24 million (1.58 percent), Amersham Industries 2.85 million, Viola Ltd 2 million, Idris 1.7 million, Samsung Vietnam Securities ViMaster Investment Trust 668,000 and Aquila SPC 550,000.
Gelex is known as the leading enterprise in electrical wire and cable manufacturing in Vietnam, but it has been expanding into other business fields, including infrastructure, logistics, real estate and investment. Industry is its core business field, bringing 70 percent of revenue.
In the last few months, Dragon Capital has poured money into Vietnamese leading brands such as Vinhomes (VHM), Sabeco, Masan Group (MSN), PNJ, CEN Land and Binh Son Refinery (BSR).
In 2017, the Vietnam Enterprise Investment Ltd (VEIL), the largest and oldest investment fund in the Vietnam stock market, experienced a very successful year with net asset value growth rate of 60 percent
The investment portfolio managed by Dragon Capital in Vietnam is valued at billions of dollars, a large proportion of which has been poured into leading real estate firms such as VinHomes, Khang Dien, Dat Xanh, CEN Land, Hai Phat, Kinh Bac City and Ha Do.
In the stock market, the sale is still prevailing. The shares of securities companies insurers and real estate developers have seen prices drop drastically.
The price fall has also occurred with shares of the companies leading in their business fields, such as PNJ (jewelry) and Vinamilk (dairy), and with banks shares, called 'King shares', such as Vietcombank, VietinBank and BIDV.
The VN Index lost 11.56 points on June 28, closing at 957.35 points, while the HNX Index lost 2.6 points to 107.06 points.
Tran Van Dung, chair of the State Securities Commission (SSC), when interviewed By Thoi Bao Tai Chinh Vietnam on June 20, affirmed that foreign cash 'still seeks opportunities for disbursement in Vietnam'.
Admitting net sales by foreign investors in the stock market, Dung affirmed that inflow is still bigger than outflow.
From January 1 to June 12,  2018, the net inflow was estimated at $2.41 billion (it was $2.9 billion in 2017). The strongest capital flow was seen in April and May.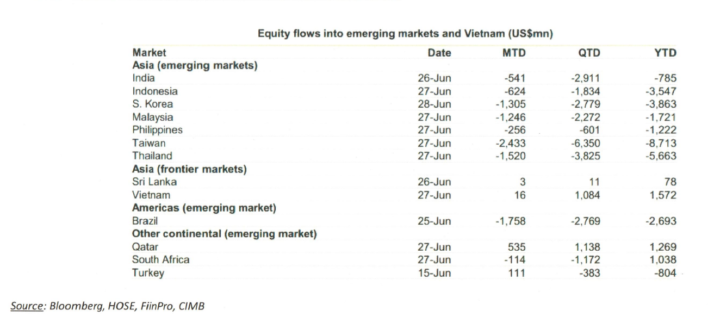 Source: Vietnam.net
Photo: VAM