27.10.2018
VietNamNet Bridge – Commercial banks have been setting up new branches and transaction points every year.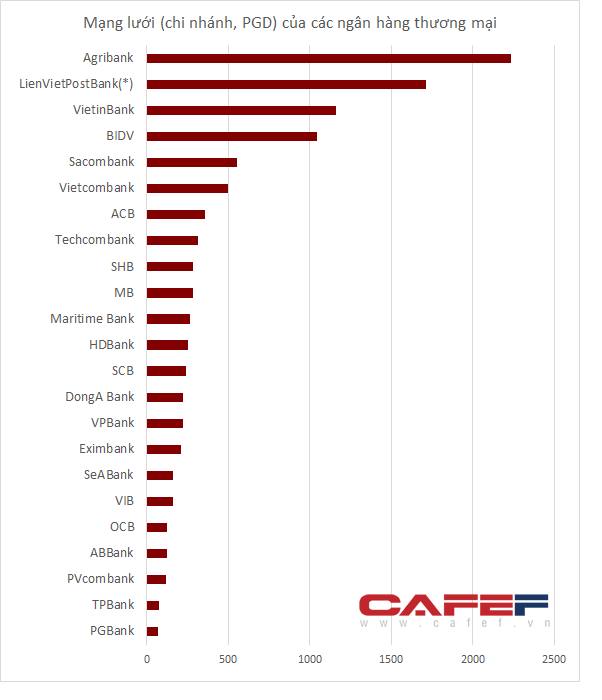 However, many banks with small networks still make high profits.
Agribank has the largest network with 2,200 transaction points throughout the country, twice as much as VietinBank and BIDV (the Bank for Investment and Development of Vietnam).
Agribank is the oldest bank in Vietnam. Established to provide loans to agriculture and rural areas, Agribank has developed a large network with transaction points reaching to every commune.
With the largest coverage, Agribank also has the biggest total assets, outstanding loans and deposits in the banking system.
LienViet Post Bank's network is the most special among commercial banks. It only has 72 branches and 260 transaction points, with sales nearly the same as SHB's and Military Bank's.
However, it has 1,300 post offices after admitting the Postal Savings Company in 2011.
Analysts say that with the network of post offices, LienViet Post Bank will be able to enlarge its network rapidly, thus allowing it to develop the retail banking.
VietinBank, BIDV and Sacombank rank the third, fourth and fifth position among the banks with largest networks. Vietcombank, one of the four banks with largest total assets and outstanding loans, only ranks sixth in term of network coverage.
The smaller banks with fewer than 100 branches and transaction points include TP Bank, PG Bank, VietCapital Bank and BaoViet Bank.
Analysts commented that large networks bring both advantages and disadvantages to banks.
With a high number of transaction offices, banks can access more clients, especially in rural and remote areas and increase coverage of their brands. However, large networks cost banks a lot of money and sometimes cause management problems.
Meanwhile, reports show that some banks have few transaction points but make relatively high profits. TP Bank and OCB have 75 and 120 transaction points, respectively, but their profits are among the top 10 banks.
TP Bank reported profit of VND1.024 trillion in the first six months of the year, while OCB VND1.302 trillion, which was even higher than the profits made by banks with large networks such as Sacombank, SHB, Eximbank and SCB.
Currently, Vietcombank is the most prosperous bank in Vietnam. It only has 500 transaction points, equal to half of that of BIDV and VietinBank, but its profit is much higher than the two banks.
The 25 commercial banks have 10,700 branches and transaction points. However, most of the transaction points are located in large cities.
Source: Vietnam.net
Photo: File