10.11.2018
With a new cable car to open at its most famous tourist site, the riverside city of Châu Đốc is poised to become an important spiritual and cultural destination in the Mekong Delta. Ngọc Diệp reports.
AN GIANG — Châu Đốc City has big aspirations.
The southwestern city is ready to shed its reputation as a sleepy border town and become a most significant spiritual and cultural destinations in the Mekong Delta.
Each year, the city attracts millions of tourists and pilgrims who pay their respects to Bà Chúa (Lady) Xứ (called bà ngoại or maternal grandmother by locals), during an annual festival, held from the 23rd to the 27th day of the fourth lunar month.
People from all over the south stream into the area to visit the Bà Chúa Xứ Temple, located at the foot of Sam Mountain about four kilometres outside the city centre.
By the end of the year, a new cable car with two lines will carry tourists up to the top of Sam Mountain, which has spectacular views of the surrounding countryside.
Lady Xứ is so renowned for her gift of bestowing financial prosperity that 80 per cent of tourists stop at the temple to promise their fealty to the revered figure.
The origin of the Lady's stone statue is the stuff of legend, with various versions favoured by different groups of people.
Three years ago, the annual festival received national recognition as an intangible cultural heritage, just two years after Châu Đốc became a second-tier city. Founded about 300 years ago, it won town status in 1966.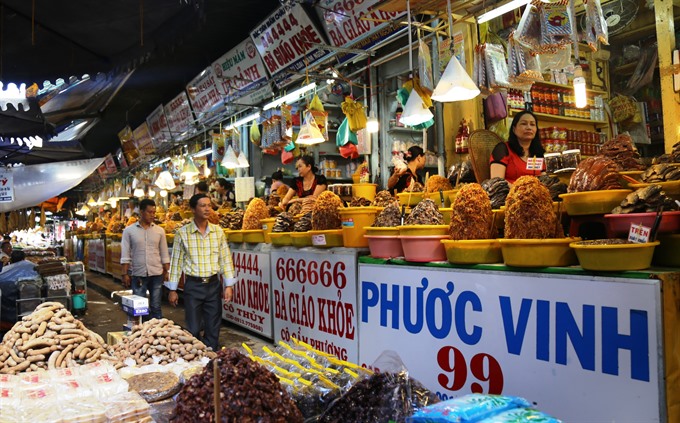 Salty: Châu Đốc Market, famous for its mắm cá (salted fermented fish), is the southwest's largest trading area for fried fish. — VNS Photo Ngọc Diệp
Tourism growth
Visiting Châu Đốc City for the first time, I was impressed with its bustling atmosphere, especially its strong tourism growth.
Located on the Hậu River bordering Cambodia, it covers an area of 105 square kilometres and has a population of 157,000.
With significant Hoa (Vietnamese with Chinese origin), Chăm and Khmer communities, the city is famous for its pagodas, temples and historical sites, as well as beautiful countryside.
Phan Văn Tài, 47, a visitor from nearby Đồng Tháp Province, told me: "Visiting Châu Đốc has become a regular habit."
Every year, his family and relatives take a bus or motorbikes to Sam Mountain to worship Lady Xứ and visit other famous sites.
As I travelled along the newly upgraded Tân Lộ Kiều Lương Street, which has six lanes for motor vehicles and two mixed lanes, I noticed many new houses and ecotourism gardens bordering lush rice fields.
On the way, I stopped to visit Trần Quốc Tuấn, vice chairman of the People's Committee, to discuss the city's two-phase plan to promote the area as a spiritual and cultural destination. The big project began this year and will end in 2025.
"This is a momentous step for us to stimulate tourism demand," he said. "We're calling for investment in infrastructure and tourism services, and we want to build our tourism brand."
The project will source VNĐ40 billion (US$1.7 million) from the city budget, and later seek funds from the private sector through the city's investment promotion centre.
During the first phase, from now to 2020, the city will improve human resource training and marketing of speciality products and tourism.
To ensure longer tourist stays and repeated visits, the city will also pour more money into ecotourism resorts, spiritual tourism projects and pilgrimage trips.
In the second phase, from 2020 to 2025, the city will establish corporate brands and improve market recognition in Southeast Asia as well as overseas markets.
As part of its effort to spruce up its image, Châu Đốc also wants to become An Giang Province's major commercial, financial and service centre, with an emphasis on green growth and sustainability.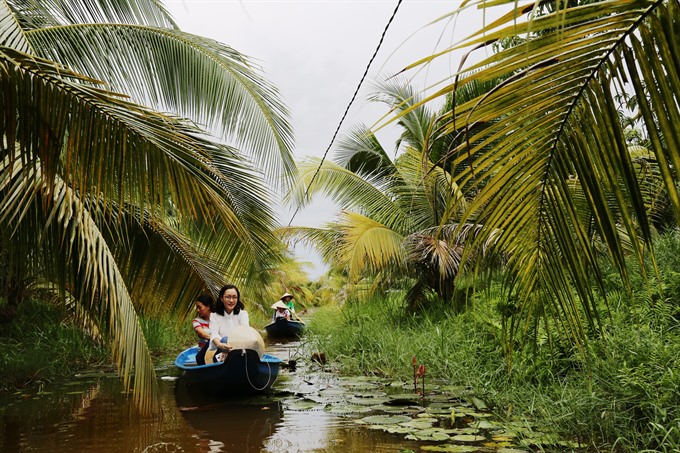 A river runs through it: Visitors enjoy a boat ride to a fruit garden at the Út Cưng ecotourism garden in Châu Đốc City's Vĩnh Tế Commune. — VNS Photo Ngọc Diệp
Cable car, cultural park
A new cable car system, which is part of another project that began two years ago, will open by the year-end.
It will have two cable lines of one kilometre each extending to the top of Sam Mountain, and will be able to carry a total of 2,800 passengers per hour, with 25 eight-person cabins.
The Bà Chúa Xứ Spiritual Cultural Tourism – Sam Mountain Cable Car System (its official name) covers about 40ha and cost VNĐ486 billion ($20.8 million).
It received investment from MGA Vietnam Co. Ltd, with consultation from Doppelmayer Garaventa Group.
The cable car is expected to increase the number of tourists to Sam Mountain to seven million by 2025.
A five-star hotel will also be built in the area, which already boasts several hotels, including the four-star Victoria Châu Đốc, with wonderful views of the Hậu River and surrounding landscape, not far from the Châu Đốc riverfront park.
Covering 10ha, the proposed Sam Mountain Cultural Park will cost VNĐ400 billion ($17.2 million), funded with private donations collected at the Bà Chúa Xứ Temple and from foreign and Vietnamese individuals and organisations.
The park will include an 81-metre tall Buddha statue carved from the stone of Sam Mountain, which will cost VNĐ255 billion ($10.9 million). It is expected to be completed by 2020.
Construction on the cultural park, which began in 2015, is expected to be completed by 2025.
Đoàn Anh Tuấn, director of the cable car project, said: "Many tourists don't extend their stay, which is the main problem in Châu Đốc and An Giang Province in general."
The poor quality of human resources and tourism services is not meeting tourists' demand.
Besides its new cable car and cultural park, the city will also build four new spiritual sites with Buddhist statues and worshipping places for the Khmer, Hoa and Vietnamese communities, and revive existing craft villages to promote speciality goods and provide visitors with hands-on experiences.
In the first six months of this year, more than four million tourists visited the city, with total earnings of nearly VNĐ3.4 trillion (US$145.7 million), an increase of 2.5 per cent against the same period last year.
To professionalise services at hotels and tourism sites, the city in the last five years has provided vocational training to more than 5,600 people and created jobs to over 27,000 persons.
Green fingers: A worker tends to potatoes in a greenhouse in Châu Đốc. — VNS Photo Ngọc Diệp
Going underground: Tourists explore the Thoại Ngọc Hầu Tomb in Châu Đốc. — VNS Photo Ngọc Diệp
Established in 2009, the Châu Đốc vocational school under the province's Department of Labour, Invalids and Social Affairs is the city's main training facility, and provides more than 600 skilled workers a year.
The school has many contracts with tourism facilities. "Most graduates find jobs immediately," head of the school, Trần Thế Vỹ, said.
The Trà Sư cajuput forest tourism area, for example, a lush area that houses a large bird sanctuary outside Châu Đốc, has requested training from the school for its future staff.
Eco-tourism growth
In recent years, the city has also been encouraging farmers to combine high-tech agricultural production with eco-tourism, following the success of many local farmers.
By growing clean produce in net houses, farmers earn a profit of VNĐ40-50 million ($1,700 – 2,100) per crop.
Hồ Tấn Phong, 56, owner of a net house in Châu Phú B Ward, grows three crops of tomatoes, melons and cucumbers each year.
Nearly 90 per cent of the products are sold to tourists visiting the garden. "Each harvest season, my family welcomes about 100 visitors every day," he told me.
Phong expanded his area to 2,300sq.m, but still has not been able to meet demand.
"I'll continue to expand cultivation and work with tourism agencies to develop a Tuấn Phong brand for my farm," he said.
Another farmer, Nguyễn Văn Cưng, 49, has also shifted to growing fruit instead of rice. His 4.4ha eco-garden with fruit trees opened in June in Vĩnh Tế Commune.
Within three months, the garden saw dramatic growth in the number of visitors.
"The economic benefits of tourism services are many times higher than that from rice," he said.
A travel agency has encouraged Cưng to include his garden on local tours. Visitors can ride in boats, catch fish and eat local dishes at his garden.
"I plan to develop more activities such as homestay services," he said.
Local markets
On the last day of my trip, I visited the Châu Đốc Market and bought mắm cá (fermented fish, a famous local speciality) as gifts for my family and friends.
Upon entering, I could smell the special fragrance and see mountains of artistically displayed fishes. Famous brands are named after female teachers, such as Cô giáo Thảo, Cô giáo Thanh or Bà giáo Khỏe.
Every year, the market provides thousands of tonnes of fish products to consumers, and to neighbouring Laos and Cambodia.
Besides the market, other must-see landmarks in Châu Đốc include the largest fish-cage village in the Mekong Delta (where fishing families live on boats and raise fish in 300 underwater cages), the ancient Tây An Pagoda, the Thoại Ngọc Hầu Tomb, and the Trà Sư cajuput forest tourism area, which is well-known for its bird sanctuary.
Source: vietnamnews.vn
Photo: vietnamnews.vn